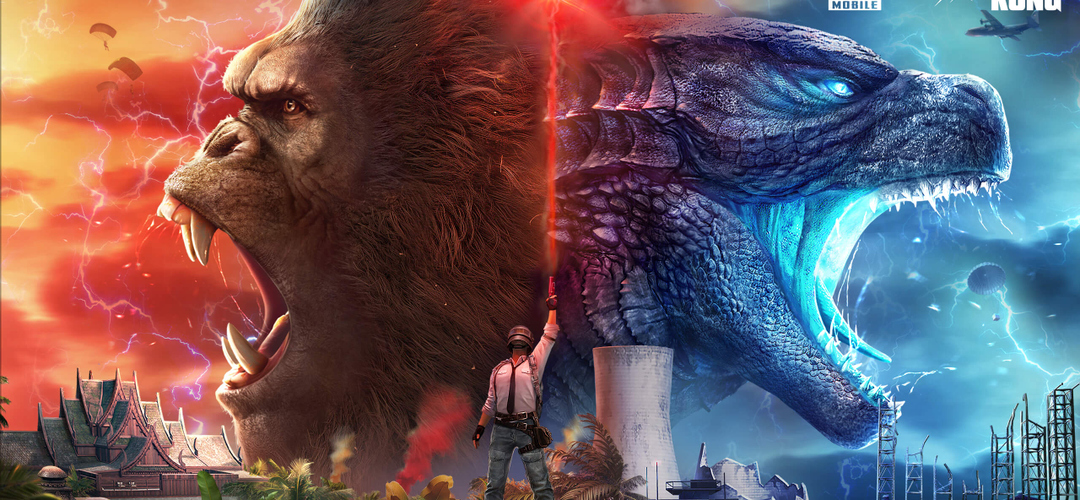 1.4 Traverse | Thematic Event
The new theme in PUBG MOBILE 1.4 – Traverse, is available now! The Lab releases reports on the Titans and Microcosm for the first time!Godzilla vs. Kong collaboration events are scheduled to be back to back! A plethora of events and rewards await you!
PUBG MOBILE x Godzilla vs. Kong Launches in May
Event Name: Inhuman Labs Titan Research
Event Time: 4/30–5/10 (UTC+0)
Event Rules:
During the event, players can access the event page and unlock Titan clues on designated maps.
Titan clues include images, sounds, and videos.
Players can investigate the clues and share their findings to unlock research experience.
Players can increase their researcher rank and unlock rewards by gaining research experience.
Event Rewards:
Hazard Handler Outfit, Riot Squad Mask, Supply Crate Coupons, AG-5
Event Page: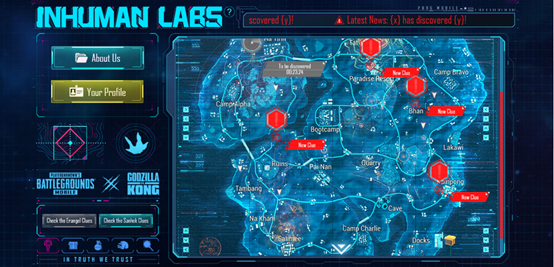 Event Name: Power of Titans
Event Time: 5/11–5/24 (UTC+0)
Event Rules:
During the event, participate in Classic game mode and complete Daily Missions to charge the Titan.
Charging will restore the Titan and give players Energy Coins for redeeming items in the Event Shop.
Players charge the two Titans, Godzilla and Kong, separately. Once the two Titans are charged to 100% server-wide, the players involved in charging the Titans will receive bonus rewards.
Event Rewards:
Spring T-Shirt (permanent), Shark Cover, Supply Crate Coupons
Event Page: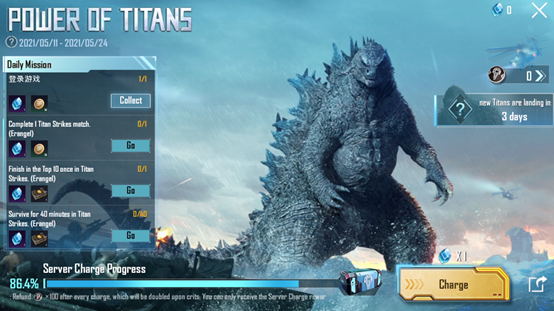 Event Name: Mechagodzilla's Attack
Event Time: 5/25–6/8 (UTC+0)
Event Rules:
During the event, players get ammo by completing specific missions.
Use a certain amount of ammo to launch an attack against the monster in the current stage.
Missing the target, hitting the monster's body, or hitting its head deals 3 types of damage: normal damage, high damage, and critical damage. Get bonus rewards for dealing critical damage.
The weapon has an automatic lock-on function. Attacking the monster without positioning it in the crosshairs still deals normal damage.
The event has 2 difficulties, and each difficulty has 5 stages. Clear them to obtain rewards.
Event Rewards:
Mummy Cover/Mask/Outfit (permanent)
Event Page: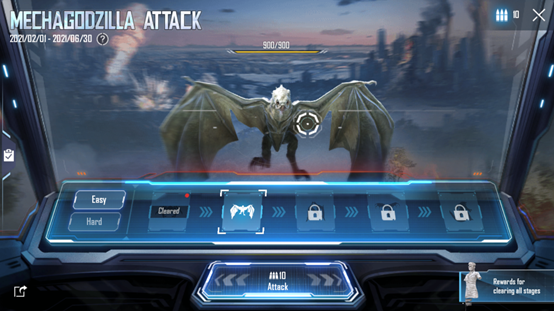 Event Name: BUDDY REUNION
Event Time: 5/6–5/31 (UTC+0)
Event Rules:
Enter the Buddy Territories and search for interesting messages.
From 5/11 to 5/31, log in daily to collect 1 HOLA BUDDY Voucher – 30 UC and use them in the corresponding event.
Event Rewards:
Buddy Vouchers
Event Page: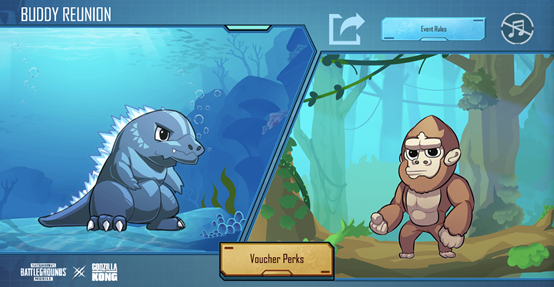 Microcosm Available in June
Event Name: The Lab's New Discovery
Event Time: 6/9–6/18 (UTC+0)
Event Rules:
Complete Daily Missions to obtain Energy Crystals and BP. Use Energy Crystals to charge Research Devices, and fully charge a device to unlock rewards.
Each time a Research Device is activated, three Energy sources will randomly emit different rays. Additional Energy is gained when matching rays are emitted.
Certain Energy combinations can even temporarily activate quantum wormholes to deliver mysterious rewards.
Event Rewards:
Fiery Love Set
Event Name: Decorating Microcosm
Event Time: 6/18–7/2 (UTC+0)
Event Rules:
Players can obtain Wildlife by completing missions.
Reach Wildlife milestones in order to receive milestone rewards.